STRATEGIC DEBATE (IN PARIS AND ONLINE): HIGHER EDUCATION AS A COMMON GOOD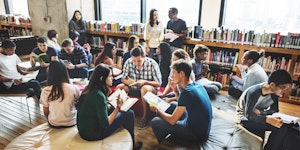 Event to be held at the following time, date, and location:
Monday, March 12, 2018 from 4:00 PM to 6:00 PM (CET)
Paris, France / or watch it online
 
Attend Event


 
We are pleased to invite you to the upcoming IIEP Strategic Debate on higher education as a common good in the era of the Sustainable Development Goals. Simon Marginson, Professor and Director of the Centre for Global Higher Education at the University College of London, will join as key speaker, Michaela Martin, Programme Specialist at IIEP-UNESCO, as discussant, and Suzanne Grant Lewis, Director of IIEP-UNESCO, as moderator. 
When: Monday, March 12, 20184pm – 6pm
What: IIEP Strategic Debate
Where: IIEP-UNESCO  auditorium7-9 rue Eugene Delacroix, 75116 Paris
This event will be held in English with simultaneous interpretation into French (only in English via livestream)
 
The Education 2030 Agenda makes a clear reference to "ensure equal access for all women and men to affordable and quality TVET and tertiary education, including university", pointing to its many societal benefits. However, while major expansion of tertiary education has taken place, systems have also become intensely competitive and increasingly stratified, with the financial burden of the expansion shifting to families and students. Within this context, analytical definitions regarding the public good nature of tertiary education have not allowed us to clearly distinguish its multiple benefits. This upcoming Strategic Debate will present international trends in tertiary education, and will provide an opportunity to discuss whether the normative notion of "tertiary education as a common good" would not be a more appropriate way to frame the discussion on both its benefits, and how to share the cost. 
 
 
WATCH THE WEBCAST
Not in Paris? We will be livestreaming this debate (4pm CET). Make sure to register clicking on the " Attend Event" link to receive a reminder and the link to the webcast. Follow the debate on Twitter with the #StrategicDebate and @IIEP_UNESCO.
 
 Attend Event



There is widespread recognition of the global learning crisis, with millions of children and youth unable to perform basic skills in reading, writing, and math. What is less clear is what children need to learn and how we can foster all-inclusive quality education for a rapidly changing future. In pursuit of SDG 4, we must look beyond the obvious and debate new ideas and strategies that will ultimately redefine learning while ensuring accessibility for all.
To help advance these conversations, IIEP is pleased to announce its 2018 Strategic Debate series. Under the title, Meeting SDG 4's learning objectives: looking beyond the obvious, an array of experts in the education field will come to IIEP over the coming months to debate salient issues around SDG 4 and put forth new solutions and ideas on what is really required to make this bold vision for education a reality.
Share this event on Facebook and Twitter. We hope you can make it!Cheers,IIEP-UNESCO
Date and Location
Monday, March 12, 2018 - 10:00am
Point of Contact
A point of contact has not been selected for this event.